Each year when students participate in the student book budget group, the most exciting day for them is the day that we unpack the boxes when they arrive.  It's the day that all of their hard work and tough decisions pays off.  After surveying almost the entire school, setting goals, meeting with vendors, creating wish lists, cutting books from the lists to fit the budget, and placing the order, the students finally get to hold books  in their hands.
Today our order from Capstone came.  We love buying books from Capstone each year for many reasons.  One reason is that their books are popular with our students.  We also love their customer service.  Our sales representative, Jim Boon, always comes in and helps students with the book selection process.  We also love how Capstone stretches our budget.  This year's order from Capstone was $1750, and with Capstone's current promotion, we earned an additional $525 in books.  When we were unpacking the order today, a student said, "Capstone Rewards sure does help us get a lot of extra books."  I love that this project really pushes students each year to think about fiscal responsibility and how to stretch a dollar.
Just like every other step of the way, the students are involved in every step of unpacking the books.  We basically form an assembly line.
Some students pull books out of the boxes and inspect them for any damage.  There's usually not any, but we always check.
Another student takes these books and highlights each one on the packing slip to make sure they are all accounted for.  Today, I helped with the highlighting process because there were so many books to take through the entire process in only 45 minutes.
These books then go to a student who stamps them with our library stamp.
From there, a group of students takes pictures of the covers to put into an Animoto to show on our morning broadcast.
When all pictures are taken, the pictures are uploaded to Animoto by another group of students.
Then, all of the students work on setting up a display at the front of the library.
The students all got to check out one of the books before they were really revealed to the rest of the school.
Then they watched their Animoto and had a little dance party to celebrate new books.
Usually, students start coming in to check out the books before we even get them all setup.  Today was no different.  Some of the DC comics and sports immediately got checked out by 2 eager boys.  I love how one student's shirt says, "best day ever".  It sure feels like a great day when we see so many smiling faces for books.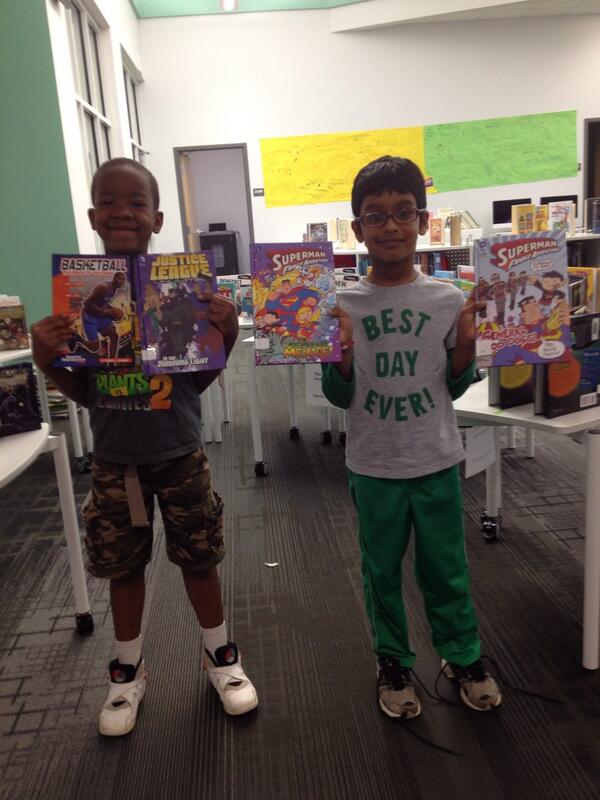 It was also a little sad to see our project for the year come to an end.  These students have been so dedicated by coming in during their recess time to work.  I smiled when one of them said, "I think I want to grow up to become a library media specialist".  Other students said, "Please let us do this again next year."
When I asked them why they like being in the student book budget group, they said things like:
who wouldn't want to buy books for the library
we loved making decisions
it was fun to spend money for the library
people are reading the books that we chose
This process is so empowering for students.  The project has proven again and again that students know how to buy books for other students.  Their books are checked out rapidly and stay among the most popular books in the library.
Thank you Capstone for supporting our project each year.  Your promotions, great selection of high interest books, and book swag gifts, made the students feel like rock stars.