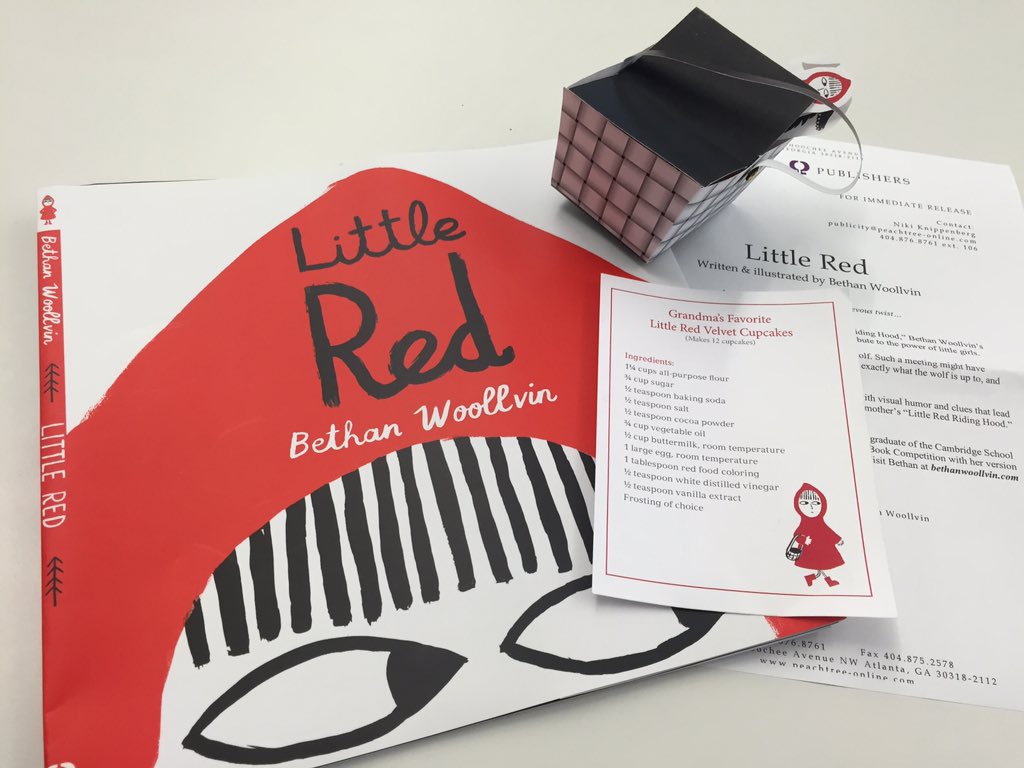 Picture Book Month is coming to a close, but of course, the power of the picture book and the magic that it holds should (and will) live on beyond one month.  Picture Book Month is a wonderful time to remind ourselves of the importance of reading aloud to one another.  It reminds us of the connections that we make to those that we experience a book with.  It reminds us of how a story that seems so short and simple can be packed with so many conversations, memories, and inspiration.
This month, I was fortunate enough to receive an advance copy of Little Red by Bethan Woollvin, a new picture book published in the US by Peachtree Publishers (April 2016).  I love getting advance copies of books and seeing what readers have to look forward to in the coming months.  I also love taking them home and sharing them with my own children.  When you share a book with a child, you see it through different eyes and it takes on a life of its own.
Little Red is a version of little red riding hood, and its pages are filled with images that use just 3 colors: red, white, and black. Many of you know how much I love the color red, and the red definitely stands out on each and every page. Little Red is a clever girl and doesn't adhere to the rules of sometimes naive fairy tale characters.  She isn't fooled by the wolf for one minute and has her own ideas of how to handle every situation.  The wolf has a massively long snout that shows off his extra sharp teeth, and Bethan Woolvin zooms the reader in to a two-page spread of the wolf that will make you feel like you are being swallowed too.  She does the same thing with Little Red to show off Red's subversive thinking in action.  I can't quit staring at these simple yet vibrant images.
When I took Little Red home, I first read it to my 3 year old son. He immediately fell in love with the story and had to read it again the very same night. He had a love/hate relationship with the wolf and loved to shout out "EAT YOU WITH!" when I turned the page in that part of the story. Little Red also has a repeating line: "which might have scared some little girls, but not this little girl". It only took a couple of readings for him to discover this line and read it along with me every time. My son is a wiggle monster and it is sometimes hard to get him to sit still for a book or even pick out a book to read at bedtime. However, every night since taking Little Red home, he has requested to read it. There's something magical about the simplicity of the text and illustrations, the subversive nature of Red (which is a bit like him), and the element of getting "eaten" that demands his attention.
Peachtree sent a cute little paper basket filled with cupcake wrappers, a red velvet recipe, and cupcake toppers. These quickly became toys to continue the story beyond the pages of the book. He took all of them out at supper at stuck them in his bread and began telling us all a story over dinner. It made me realize as a parent that I often go beyond the book at school but I don't do it nearly enough at home. Something as simple as a paper cutout of a book character became an avenue for imaginative story-based play, and it really wouldn't take much effort for me to do that with more books.  It also reminded me of a new resource for families called All the Wonders, which offers ways for families to go beyond the book.
My 5 year old daughter also joined in on the fun of Little Red by listening along as I read.  It did not take her long to be able to read the entire book by herself, so now she wants to share it with every person she can. She reads it to me, her mom, and her brother.  We also brought it along with us to Thanksgiving at my mom's house. My daughter's great grandmother came down to visit and of course was delighted by a reading of Little Red. It was magical to watch my daughter, who I've read to since before birth, suddenly be the reader.  I think she read the book three or four times to her great grandmother, and then I watched as they started talking about what happens "between the lines" of the pages.  Her great grandmother shared the story of the woodsman from other red riding hood stories and they began to wonder if there was a woodsman anywhere in this story or why there wasn't.  I've always loved my grandmother's knack for storytelling, and it was fun to see her do a quick red riding hood version with my daughter.
There's no way that I could have known all of the magic that was hiding inside this one book without opening it up, sharing it aloud, and carefully looking for the miraculous.  As we leave Picture Book Month, I invite you to look at the picture books around you. What magic is hiding inside? How are you sharing them with the readers in your life? How are you encouraging readers beyond the pages of the book? I write these questions because they are what I'm considering for myself right now thanks to Bethan Woollvin, Little Red, and my own family. Happy reading!